| Overview | Process Diagram | On Site Photos | Spec Sheet |

Product Specifications
How does it work?  AccuDry® is an in-Kiln moisture measurement system that provides precise visibility of the Wood Moisture Content, throughout the drying process.  AccuDry® measures how the wood affects electrical signals as they are passed through the stack inside the Kiln.  Two stainless steel electrode plates are inserted into the wood stacks, to which the AccuDry® meter is connected to with alligator clamped cables.  The AccuDry® system, mounted nearby on the kiln, injects low voltage electrical signals into the wood through one plate, and returns it to the meter through the second plate.  Using its patented technology, the AccuDry® meter measures the change of the signal, and applies scientifically proven algorithms to determine the dielectric conditions of the wood.  The results are then sent to an AccuDry® display screen so the kiln operator can monitor the current moisture content of each individual wood stack (i.e. kiln zone).  AccuDry® can also be connected to programmable logic controllers (PLCs) to interact with kiln control systems. 
Installation Process:  An authorized contractor will install AccuDry® (approx. 2 days).  Kiln Operator is responsible for installing conduit with RS485 Plenum Cable between controller location & kiln.   AccuDry® meter(s) are mounted on kiln outer
wall and are cabled back to the control unit, which will be installed near kiln control system, or as desired.  Activation and
calibration is performed onsite by an AccuDry® engineer.
Warranty:  5 year limited warranty for the AccuDry® system: Stack Probe hardware 5 yrs; New Electronics 2 yrs; Rebuilt Electronics 1yr; Installation Labor 90 days.  See full warranty statement for complete details.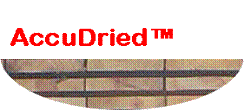 AccuDry® Control Unit:
            Embedded GUI Controller……… Solid state construction, self contained microprocessor
            LCD Display Monitor…………..  12" liquid crystal display
            AccuDry®  GUI Software………  Latest version of licensed software
            Data Converter………………….   Solid state construction
Loop Cable………...……………  RS485 plenum cable
AccuDry® Meter:
1312 EPMC / EPMCLT Meter…..  Sealed unit, external mount; meter services 4 plates (two wood stacks);
multiple meters can be installed on kiln.  EPMCLT meter is equipped with integrated heater.
Feed-Through Extension………....  Sealed probe wire entrance, non-corrosive metal alloy; 1 per meter
LVOS Embedded Controller……..  Solid state construction, self contained microprocessor
Wood Probes:
Plates (electrode probes)…………  Stainless steel construction plates, made of high grade stainless alloy to
resist corrosion; Four (4) plates per meter; Dimensions as required (for example: 4' x 6" x 1/8").
            Probe Wires w/alligator clips..…....  Stainless conductive metal alloy, 14 Ga. wire; 4 per meter
Patent (US#6703847):
AccuDry® is protected under US Patent#6703847, March 1994 (view at www.uspto.gov); MMRI, Inc. (Liebrecht Venter) owns all rights and maintains sole marketing authority for the moisture measurement technology incorporated within AccuDry® .  Unauthorized use of a patented technology is considered by law to be patent infringement, with serious legal consequences per US Code Title – 35, Patents.